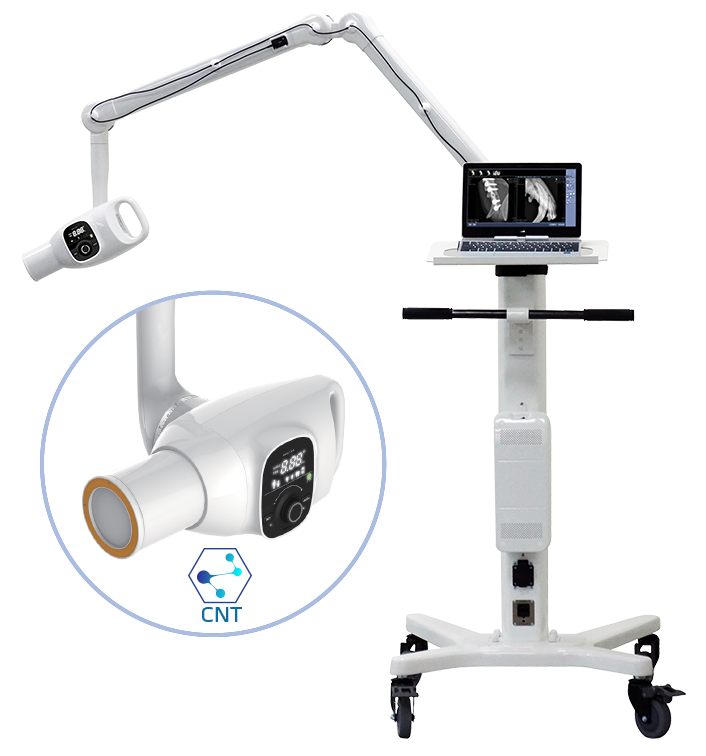 MyVet EzRay Vet Cart
EzRay vet™ cart, the mobile dental x-ray cart system expedites your veterinary dental treatment procedure and provides trouble-free workflow by minimizing anesthesia risks or restraint injuries.

CNT(Carbon nanotubes) x-ray technology
-Maximum exposure time reduced by 75% to animal and user while maintaining optimal image quality.
-Smart angulation exposure setting control maintains consistent image density whenever tube head is angled by automatically adjusting exposure setting.
-Image quality maximized with narrow, focused beams directed at a 0.4mm focal spot.

Ergonomic design for workflow advantage
-Compact, lightweight, one-hand control tube head and Non-drift head.
-Preset technique per animal size – Simple dialing and shoot.
-Like turning on a light bulb, No warm-up time required. No waiting time for next shoot.

Animal comfort
-Easy to position tube head with one-hand control results in reduced time.
-Lower exposure levels required for animal during an dental imaging procedure.
Modality

:

X-Ray
Specialty

:

Veterinary
Manufacturer

:

myvet imaging